The main goal of the competition is to design Campus Bio-Medico University development upon two different project scales: on the one hand the masterplan design of UCBM areas, both built on and unbuilt areas to be developed by 2045, on the other hand the architectural design of short-term new functions and services.
Seven selected design teams have been invited to shape an urban and landscape design, a cutting-edge project able to draw an integrated and consistent distribution of the new functions envisaged by UCBM Development Plan "piùCampus 2015-2045" for its main areas: university education, scientific research, health care and assistance.
The masterplan proposal is to provide, together with the design of the whole campus, a building program able to network existing and future buildings and to connect them, in a zero-cube ground design, with Decima Malafede Natural Reserve. The masterplan is to be conceived as a step-by-step process for UCBM long-term growth as a University Park, an international centre for the practice and training of health and environmental sciences, with a particular attention to the environmental, energy, social and financial sustainability. The masterplan will supply a coherent framework in relation to the public and private mobility development and a close synergy and dialogue with the surroundings and the City.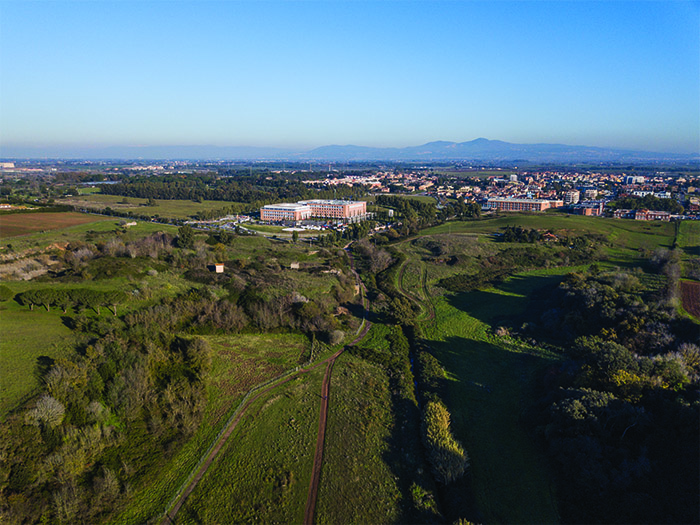 The competition is structured to continue the first development of UCBM campus in Trigoria, its urban renovation driven by a cultural project that since 2008 has brought benefits to the territory and local communities in terms of infrustructural services for Trigoria inhabitants, socio-economic activities and perceived security. Among the campus legacies: more than 4,5 Km of roads, parking areas, pavements, pedestrian and cycle paths around 9 Km, green furnishings and areas, parks' accommodation, public lighting, seweraged systems and underground works.
Among the new functions and infrustructures that the multidisciplinary teams will have to design: new modular and flexible classrooms; a Knowledge Hub including a library and informal training spaces; tutoring, counseling and interaction rooms for students, teachers and researchers; a simulation center; sports, housing and dining facilities, an arts / civic center open to citizens; working spaces to foster smart working, dialogue and cooperation.
Design guidelines are the result of a two-year work by the University community through innovative tools of participation and sharing. The history, values, mission, activities and goals of Campus Bio-Medico University of Rome have been gathered and organized in cooperation with competition scientific advisor, Luca Molinari Studio, in the design brief handed out to the competition participants. The design brief includes all quantitative and qualitative instructions for the design of UCBM development.
On the occasion of the competition workshop presentation (14 and 15 March 2018 - Campus Bio-Medico University of Rome) the seven finalists, coming from Belgium, Colombia, Italy, Germany and the Unites States, have visited UCBM current facilities, the project areas and attended the international symposium, "Education & Innovation: Universities serving society and humanity" that has enriched the workshop with an insight on university development and innovation practices and the contribution of distinguished academics and experts from Argentina, Italy, Spain and UK.
Because of the strategic impact on the territory and the institutional support to the competition initiative as a drive for urban renovation, the competition workshop presentation has been joined and developed in association with Ministry of Cultural Heritage and Activities and Tourism (MiBACT), Ministry of Economic Development (MISE), Regione Lazio, Roma Capitale, RomaNatura Regional authority, Legambiente and UCBM partner eFM SpA.
Download the program of the competition workshop presentation (14 and 15 March 2018, Campus Bio-Medico University of Rome)
Download the program of the international symposium, Education & Innovation: Universities serving society and humanity (14 March 2018, Campus Bio-Medico University of Rome)