The future of Campus Bio-Medico University of Rome
Strengthened by a background over the last twenty-five years, Campus-Bio-Medico University of Rome (UCBM) looks at the the challenges awaiting the future of University, post-graduate training, health care and assistance and scientific research by carrying on the development of its campus in Trigoria in harmony with UCBM 2015-2045 Development Plan which is the outcome of a shared process among UCBM governing bodies and promoters outlining the Athenaeum priorities and objectives over the next thirty years.

The qualitative and quantitative growth of UCBM, research university focused on environment and healthcare sciences, goes through the environmental and infrustructural quality of its spaces. Following UCBM identity and mission - based on the centrality of the person, openness to transcendence and spirit of service - Campus-Bio-Medico University of Rome promotes, UCBM Masterplan International Design Competition to effectively and consistently shape the urban and architectural design of the Campus in line with its values and growth prospects. A campus surrounded by nature in a conscious dialogue and relation with the urban context. An active landscape fragment capable of fostering knowledge, research and the wellbeing of its inhabitants - students, researchers, physicians, patients and visitors – and promoting the University third mission, that is its cultural and economic impact on society.

The competition is the result of an assessment and selection process started in 2015 by Campus Bio Medico S.p.A (CBM S.p.A), holding company promoter of UCBM with the aim of a University Park able to furtherly encourage scientific knowledge, research and practice of a Science for Man, and at the same time to answer the needs of a dinamic and heterogeneous learning community upon international standards of excellence.

UCBM Masterplan International Design Competition is a competition on invitation facing two different outputs and project scales:
- the masterplan design of UCBM campus, over a total area of about 90 ha and a gross surface of 186,000 sm
- UCBM architectural development for short/medium-term new functions over a gross total surface of 17.500 sm. Among these new functions: a new educational centre and new facilities devoted to campus life and multidisciplinarity such as sports facilities, informal learning spaces, a new library, UCBM headquarters, residential and service spaces.

During the competition preparatory phase Piero Lucchini, among the founders and reference point of UCBM community, passed away. With his work, generosity and optimism he has played an important role to feed the vision of the competition design process. For this reason UCBM Masterplan International Design Competition is dedicated to his memory.

UCBM Masterplan International Design Competition roadmap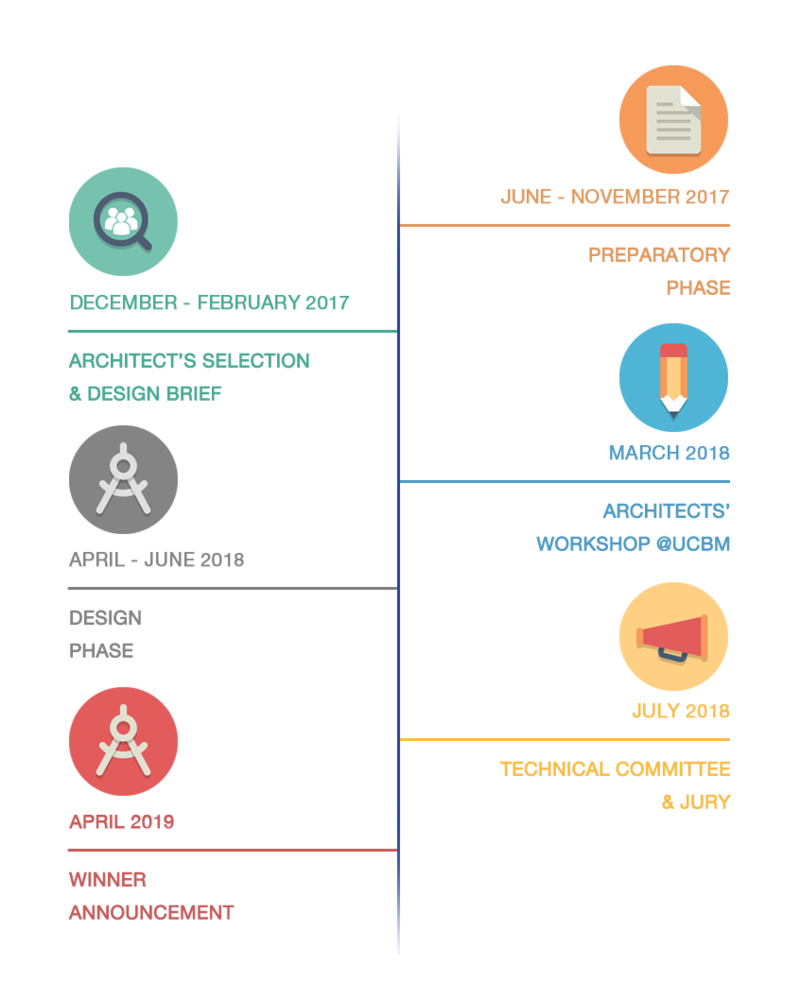 Started in 1991 Campus Bio-Medico S.p.A (CBM S.p.A) is the organization promoting Campus Bio-Medico University of Rome and the owner of the land on which UCBM is located. CBM is responsible for implementing 2015-2045 Development Plan "piùCampus" and UCBM Masterplan International Design Competition dedicated to the memory of Mr. Piero Lucchini. CBM provides its entrepreneurial and management resources to enhance the Campus institutional purposes, manage UCBM real estate assets and develop new projects fostering the growth of the Athenaeum. CBM shareholders are non-profit organisations, istitutional and private investors.

The competition is curated by Luca Molinari Studio, Milan-based studio internationally operating within the realm of architectural research, curatorship, publishing and consulting, committed to developing future scenarios, tools and processes that can turn visions and needs into tangible projects, share knowledge and shape spaces for diverse communities.